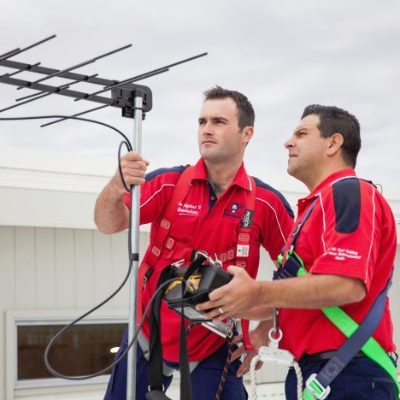 North Adelaide
"Couldn't have been more helpful. Went above and beyond the call of duty. We were very happy" – Lynne, Modbury Heights
This is just one of the many customer testimonials Daniel has received since he began with Jim's Antennas North Adelaide in 2008. In this time Daniel has established himself as one of our finest technicians.
Daniel presents in impeccable fashion. His uniform is spotless, his van is sign written and immaculately presented. But it's not all gloss with Daniel. He loves to get down and dirty, crawling under houses, crouching through tight roof spaces. That's just another day at the office for Daniel as he endeavours to exceed the expectations of his clients.
Daniel is prompt, efficient, competitively priced and provides extended warranties, which he will always honour. Daniel is one of 150+ technicians representing Jim's Antennas Australia-wide, and he comfortably sits in the top ten for professionalism and technical ability.
With many strings to his bow, Daniel is more than just an antenna installer. Fully qualified and highly trained, Daniel also has the expertise to install phone and data points, mount TVs and projectors, set up your home theatre system, smart wire your home and just about anything else you can think of.
Why trust your home or office with anyone else? Call in Jim's Antennas Adelaide. Jim's Antennas North Adelaide provide a range of services including:

Digital TV set top boxes
New TV Antennas installations
Digital TV Upgrades
Extra TV, Telephone and Data Points
Plasma/LED/LCD TV Installations
Home Theatre Installation and Setup
Freeview TV
Satellite Systems
Units, Hotels, Schools, Commercial Buildings – MATV Systems
Insurance work
Daniel services the following suburbs and neighbouring areas:
Adelaide, Beverley, Burnside, Enfield, Flinders Park, Fullarton, Kensington Park, Klemzig, Magill, North Adelaide & Stepney.
If Daniel is unavailable we will have another of our professionals respond to your needs.
Neighbouring Areas Serviced