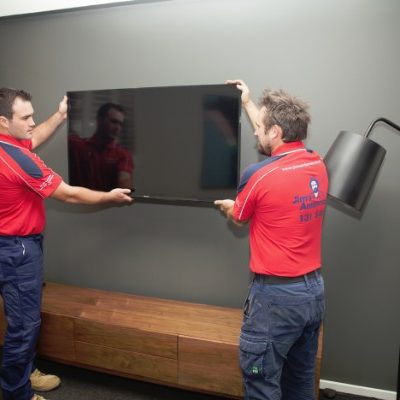 Henley Beach
Welcome to Jim's Antennas Henley Beach, SA.  We provide local antenna and home theatre specialists servicing all suburbs in the Henley Beach region.  Call us 7 days on 131 546 or Book Online 24/7.
Craig has made a massive impact in Jim's Antennas since commencing in Henley Beach in 2007. Since joining Craig has witnessed the fleet of Jim's Antennas Adelaide installers increase dramatically. Now Jim's Antennas Adelaide stands alone as the largest team of installers in the state.
Craig has established himself as a valuable member of the team. Craig is regularly called upon to assist colleagues as his industry knowledge is second to none. Craig is equally adept at residential installations as he is at commercial.  Craig has installed master antenna systems at hospitals, hotels, universities, nursing homes and large apartment complexes. Craig is also the go to man for real estate agents, property managers, strata managers, as his ability to respond to issues in a timely manner makes life so much easier for all involved.
Builders and electricians also rely on Craig's services as they know he will do a professional job that will ensure no fall back on their reputation.
Jim's Antennas Adelaide is committed to providing exceptional service to all clients. Our reputation is our livelihood and that's why we've been operating since 1999 and continuing to grow.
For quality service all year round, call Jim's Antennas Adelaide on 131 546.
Jim's Antennas Henley Beach provide a range of services including:
Digital TV set top boxes
New TV Antennas installations
Digital TV Upgrades
Extra TV, Telephone and Data Points
Plasma/LED/LCD TV Installations
Home Theatre Installation and Setup
Freeview TV
Satellite Systems
Units, Hotels, Schools, Commercial Buildings – MATV Systems
Insurance work
Craig services the following suburbs and neighbouring areas: Adelaide, Belair, Bevereley, Blackwood, Daw Park, Kensington Park, Kilburn, North Adelaide, Prospect & Richmond.
If Craig is unavailable we will have another of our professionals respond to your needs. Call us 7 days on 131 546 or Book Online 24/7.
"Craig was friendly and helpful. We were very happy with his work."
Request a Free Quote
or Call 131 546 [8am – 8am – 7 days]