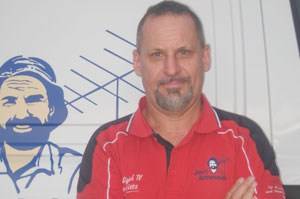 Blakeview
Dean is your local antenna and home theatre specialist servicing all suburbs in the Blakeview region. Dean is your local digital antenna, home theatre, T.V. point, and telephone point specialist, Servicing Blakeview and the northern suburbs of Adelaide.
Dean has been with us for 18 months and his knowledge of the northern areas is an asset to our clients, as he is a local boy, growing up in Salisbury. His growing list of clients is down to his dedication, attention to detail and friendly nature. Dean can hang your T.V. on the wall, conceal your cabling, and hang your surround sound speakers on the wall, all done to make them appear to be floating there.
Another service which is growing in demand, due to the advent of solar power, is the re-locating of antennas, to positions that don't cast shadows on your panels. Of course, the installation of the best quality Australian made antennas, splitters and associated parts is a specialty. Dean grew up in Salisbury, and loves barracking for his team, Centrals. You can usually find him in front of the grandstand on a Saturday afternoon.
On Sundays you'll see him on his Harley, cruising the hills to one of the many fine hotels throughout the Adelaide region, for a counter lunch. All Jim's staff are fully qualified and police checked, so you can feel 100% comfortable in dealing with them.
Dean services the entire Adelaide region, specialising in the northern suburbs. If you are in need of a new antenna , extra T.V. points , your antenna re-located , extra phone points or if you want your home theatre set – up , or any problem solving, in Blake view and surrounding suburbs , then call us today on 131546.
Jim's Antennas Blakeview provide a range of services including:
Digital TV set top boxes
New TV Antennas installations
Digital TV Upgrades
Extra TV, Telephone and Data Points
Plasma/LED/LCD TV Installations
Home Theatre Installation and Setup
Freeview TV
Satellite Systems
Units, Hotels, Schools, Commercial Buildings – MATV Systems
Insurance work
If Dean is unavailable we will have another of our professionals respond to your needs.
Request a Free Quote
or Call 131 546 [8am – 8am – 7 days]