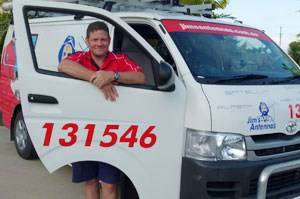 West Mackay
Graham is your local antenna and home theatre specialist servicing all suburbs in the West Mackay region.
I'm Graham your born and bred local Jim's Antennas Franchisee in West Mackay. I'm married to Liz who is a hairdresser and also my bookkeeper. We have 3 Children, Lucy, Grady and Kurt. Our favorite pastimes are camping and traveling.
I can assist you in all aspects of home entertainment and Digital Television reception. In the past two years I have completed a Government endorsed qualification: Certificate 2 & 3 in Digital Reception Technology. I also hold current Digital Ready Government Endorsed certification in both Free to Air (FTA) & Satellite Television installation. I also possess an ACMA Open Cablers Registration which allows me to install telephone cabling and extra phone outlets in your home. I also hold a White Construction Card. All Jim's Antenna Franchisees carry both Public liability & property insurance to ensure you are protected in the unlikely event of something going wrong.
My previous working background was in sales/customer service in Electrical Appliance Retail, which I was involved in for 20 years. I can assist you with:
TV antenna installation
Extra TV outlets
Satellite TV installation including VAST, Asian TV, Christian TV & caravan installations
Telephone/data installation
All aspects of home theatre installation including installing speaker cabling and projectors
Wall mounting of all sizes of televisions (the largest installed to date is a 75″)
Data projector installs in boardrooms & conference centres
Hotel/Motel MATV systems
I have a full stocked and setup van and I travel throughout the Mackay district. Some of the areas I have covered include Sarina, Koumala, Carmilla and Clairview to the south, Nebo & Moranbah to the West, the Pioneer Valley including Finch Hatton and Eungella.
I recently began to cover the Whitsundays taking in areas such as Proserpine, Cannonvale, Airlie Beach & Shute Harbour.
In my time with Jim's Antennas I have had the honour of being nominated on 2 occasions as a finalist in the Franchisee of the Year awards at the Jim's Antennas National Conference. In 2012 I was runner up and in 2013 I was humbled to be named Franchisee of the Year.
If I can help in any way call Jim's Antennas on 13 15 46.
Jim's Antennas West Mackay provide a range of services including:
Digital TV set top boxes
New TV Antennas installations
Digital TV Upgrades
Extra TV, Telephone and Data Points
Plasma/LED/LCD TV Installations
Home Theatre Installation and Setup
Freeview TV
Satellite Systems
Units, Hotels, Schools, Commercial Buildings – MATV Systems
Insurance work
Graham services the following suburbs and neighbouring areas:
Sarina, Koumala, Carmilla and Clairview to the south, Nebo, Moranbah to the West, the Pioneer Valley including Finch Hatton, Proserpine, Cannonvale, Airlie Beach and Eungella.
If Graham is unavailable we will have another of our professionals respond to your needs.
Request a Free Quote
or Call 131 546 [8am – 8am – 7 days]