Digital TV Antennas Northern Territory
Digital TV Antennas Northern Territory
Jim's Antennas has been in the business of installing high quality antennas in the Northern Territory for ages. We deal not just in the installation of antennas but all products and services involving TV viewing for home and office, as well as data points and phone points.
Our company has been catering to the residents of this territory for almost two decades now with an array of solutions that have seen us witness the shift from analogue to digital firsthand. This has included analogue/digital TV antenna and aerial installation services, installation of digital STBs (set-top boxes) and extra TV points, home theatre installation, not to mention fine-tuning television reception issues.
For a complete list of what we do, please view Our Services page.
.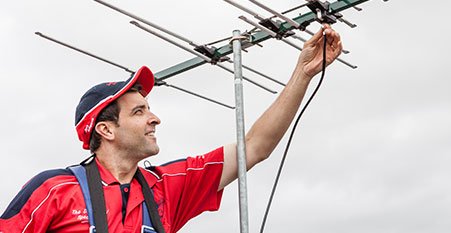 Expert Services
Jim's Antennas offers a full range of television antennas to suit digital transmissions. We can help with installing brand new antennas or repairing your existing antenna.

Digital TV Antenna & Satellite Dish Installation
We provide antenna servicing, installation, and complete setup for Digital TV upgrades. We can also help you with your satelite reception and dish-antenna installation.
Home & Office Automation
Our technicians are able to add automation technologies to your home or office. All cables, components, and accessories can be concealed creating a clean finish.
Residential and Commercial
We can help with commercial as well as residential jobs, including CATV systems for high rise buildings and apartment blocks. We offer obligation free quotes.
Why Choose Us
Australia's largest antenna installation services
Obligation free quotes provided before we start work
Fast hassle free service in any suburb in NT.
Wide range of services to suit your home or office
Experts specialising in large scale commercial projects
The confidence of using a Jim's Group service
What we will do for you
By working with us, we will help you in resolving multiple issues that will enable you to harness the most out of your viewing experience. These include, among others:
Installation of new antennas:
Service TV antennas
Digital TV upgrades – this includes complete setup and any other issues arising from digital television
Solving satellite reception issues and installation of dish-antennas
Home theatre installation
Flat screen installation
Mounting data and phone points
Join The 900,000+ Satisfied Jim's Antennas Clients!
Why us?
The mere fact that we have been in business for over 15 years decades should give you an idea why many customers choose Jim's Antennas for their television antenna installation needs. But before we get ahead of ourselves, maybe we need to remind you why we come top of the crop in the NT.
At Jim's Antennas, we understand that TV viewership is more than just a reception issue. We have firmly stamped our two feet in the entire state primarily because of our quality products and superior service. We derive pleasure in what we do and our reputation is built on pride of service.  To ensure we serve our growing customer base to everyone's satisfaction, we have made it our mission to deploy local technicians who speak the same language as you. We have multiple franchisees spread out across Australia, and our representative in NT is none other than yours truly, Daniel, who covers Darwin, Palmerston and Rural areas.
In the event that his team is not available at the time of your need, we will be more than happy to come to you with another team within no time. We understand that our reputation is on the line in this business, and it is for this reason we insist on forging a relationship with the best of the best out there. Our technicians are highly qualified (which is not only a cliché but also an understatement) and employ the latest technologies required for digital TV installation in your home or workplace.
We are also the most amiable lot you will interact with. Call us anytime toll-free on 131 546 and we will give you an obligation-free quote. You will just love us, we promise.
Meet our Northern Territory Franchisees