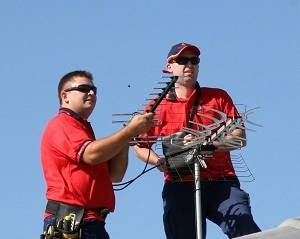 Runaway Bay
Gavin is your local antenna and home theatre specialist servicing all suburbs in the Runaway Bay region.
Gavin is originally from South Australia but moved to the Gold Coast with his family 8 years ago and joined Jim's Antennas soon after. Having worked in the antenna business as a franchisee for several years, Gavin took the opportunity to become franchisor for Brisbane, Gold Coast and Toowoomba. Gavin is proud to represent and promote the Jim's Antennas brand as he believes that not only are the franchisees the best trained but enjoy the support of over 170 other Jim's Antennas franchisees as well as having industry and government contacts.
Gavin was nominated for franchisee of the year in 2005 Like other Jim's franchisees Gavin believes in ongoing training and has achieved his open cabling licence which allows him to work on commercial jobs, Gavin has also completed a THX home theatre professional course which allows him to design and install not only high end home theatres but to maximise the performance of any home theatre. Gavin has completed several large scale home cinemas in areas like Sanctuary Cove, Ephraim Island and Tallai. Having worked in South East Queensland for over 8 years, Gavin has gained a great local knowledge of not only remote areas and the challenges these areas present but metro areas also which benefits customers by knowing what antennas are needed therefore reducing time on the job.
As part of a great team covering areas from Bribie Island, through the northern suburbs and Brisbane, out to the Bayside and Redcliffe and down to the Gold Coast. Jim's Antennas can provide a professional, well trained antenna service covering not only domestic installs and builders contracts but commercial work in both office buildings and residential towers. In his spare time Gavin keeps himself very busy with his family, including his 2 young sons who love going to the beach. Gavin also likes to keep up with the latest technologies from around the world so he can offer his customers the most up to date solutions for their homes.
Jim's Antennas Runaway Bay provide a range of services including:
Digital TV set top boxes
New TV Antennas installations
Digital TV Upgrades
Extra TV, Telephone and Data Points
Plasma/LED/LCD TV Installations
Home Theatre Installation and Setup
Freeview TV
Satellite Systems
Units, Hotels, Schools, Commercial Buildings – MATV Systems
Insurance work
Gavin services the following suburbs and neighbouring areas:       Bribie Island, Northern Suburbs and Brisbane, Bayside, Redcliffe and Gold Coast. If Gavin is unavailable we will have another of our professionals respond to your needs.
Request a Free Quote
or Call 131 546 [8am – 8am – 7 days]