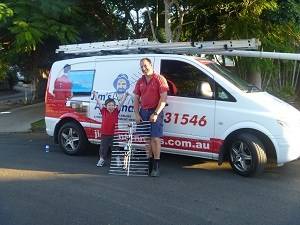 Cooloola
Tim is your local antenna and home theatre specialist servicing all suburbs in the Cooloola region.
Tim is the local TV antenna specialist for the Gympie and Cooloola region, stretching from Rainbow Beach to Kilkivan, Glenwood to Kybong. Tim and his wife Sommer love living in the Cooloola region with their 3 young boys. It has something for everyone, neighbouring the Sunshine Coast, Brisbane and Harvey Bay. I moved my family to Gympie four years ago to continue the name of Jim's Antennas that have been a part of the Gympie area for the last 7 years.
Tim loves the area, and says they are staying put! "Having three young boys all close together in age, to me and my wife Sommer, it's the perfect place to be" says Tim. They all love their sport and are always keen for a game at the local Gympie Cats Junior AFL. The Jim's Group offered me opportunity to own my own business with first class support, on-going technical training and shelter from the typical start up woes of a non franchise business. The biggest MYTH that I face is that the Jims framework is a percentage based system where money is channeled from the area… That is not the case and to me spending locally is very important.
Tim has recently extended his Training and has completed a Cert 3 certificate in Communications Wiring. Why not try us and see how you can benefit from our technical know-how, excellent customer service and the willingness to get it right the first time.
Jim's Antennas Cooloola provide a range of services including:
Digital TV set top boxes
New TV Antennas installations
Digital TV Upgrades
Extra TV, Telephone and Data Points
Plasma/LED/LCD TV Installations
Home Theatre Installation and Setup
Freeview TV
Satellite Systems
Units, Hotels, Schools, Commercial Buildings – MATV Systems
Insurance work
If Tim is unavailable we will have another of our professionals respond to your needs.
Request a Free Quote
or Call 131 546 [8am – 8am – 7 days]