Experts in TV Wall Mounting
Trust your TV wall mounting to the experts for a safe, clean and professional finish
Want to show off your new flat screen TV? Then a professional wall mount installation is just what you need.

Mounting your flat screen to the wall will not only remove unwanted clutter but also free up precious space to give you a clean, aesthetically pleasing room.

Many flat screen TV buyers launch into installing a wall mount TV as a DIY project, only to realise that they've bitten off more than they can chew. It's easy to overlook how involved a TV wall mount installation can be. It requires specialist skills and specialist tools, which not everyone possesses.

Our technicians are highly trained and carry the correct installation tools required to safely and securely wall mount your TV.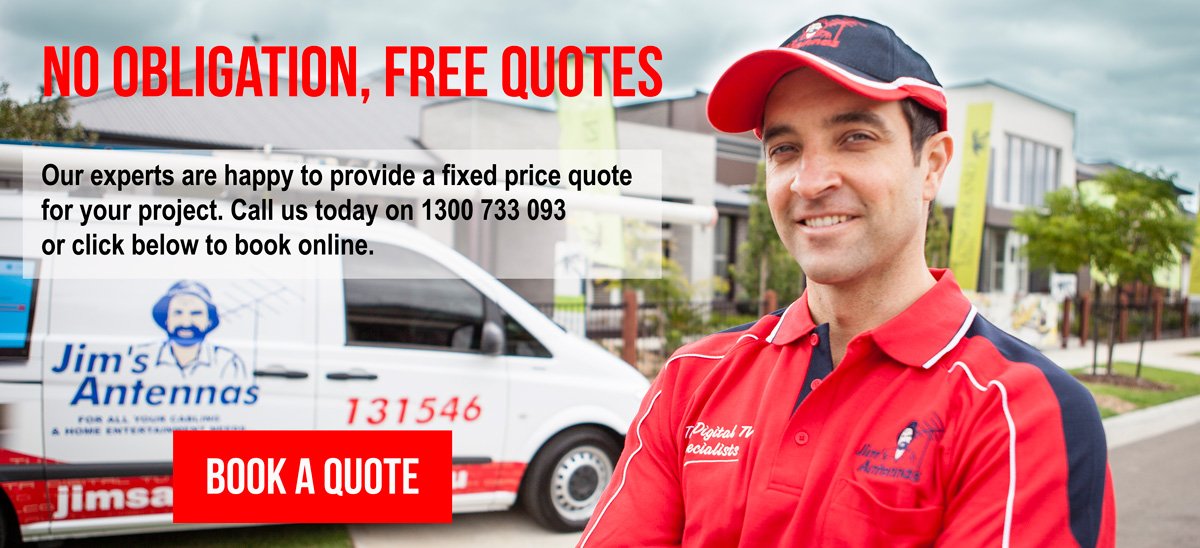 At Jim's Antennas, we help install and secure your TV mounting bracket on proper wall studs, and then safely mount your flat screen on the wall bracket. Our technicians come with all the necessary hardware and cables required to complete the installation.
We also help connect and set up all your existing and new audio and video devices to your TV, and adjust your TV settings for optimal picture and sound quality.
Have you considered:
You can only use AV cables for installation that meets local building and fire codes

You cannot route your TV's power cable through the wall as it is not safe for in-wall installation

Before cutting into a wall, you have to ensure that the area behind it is clear

You have to turn off the power in the area you'll be drilling or cutting to avoid electric shock

Before you connect AV cables to TV, both TV and the source component (for example the DVD player) should be unplugged

See to it that the new mount is capable of not just handling the TV's weight, but atleast 4 times more weight. So, if your telly weighs 25 kilos, the mount shouldn't budge at 100 kilos. This may seem like over-the-top until a child trips and grabs the TV on his way down. Most flat screens weigh between 20-70 kilos; so buy your mount accordingly.

Prior to purchasing a wall mount, inspect your wall. Measure how far apart two studs are from one another. Most swivel mounts are perfect for studs which have a distance of 16 inches. There are some which mount onto 14 inch spaced studs. If the studs are more than 20 inches apart, consider other options like cabinets as that will save you from expensive wall modifications.
Not feeling too confident to handle all of this? Not to worry, we are here to help.
Call Jim's Antenna at 1300 733 093 right now!
Our professional technicians will wall mount your screen safely in no time for you to relax and enjoy excellent TV viewing experience without waiting unnecessarily.



See Our Other Services