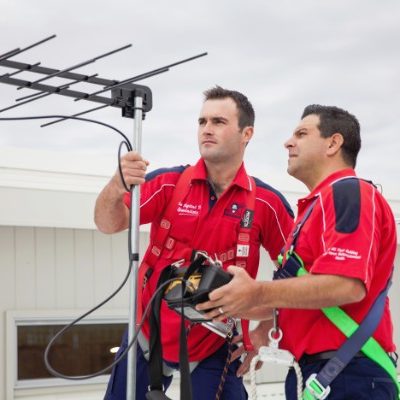 Norwood
Welcome to Jim's Antennas Norwood, SA.  We provide local antenna and home theatre specialists servicing all suburbs in the Norwood region.  Call us 7 days on 131 546 or Book Online 24/7.
You can't look past Jim's Antennas Norwood for service excellence. We value each and every client and rely on your word of mouth to grow. If one client has a bad experience then that's one too many. We'll do everything in our power to meet and hopefully exceed your expectations.
We've installed antennas in every pocket of Norwood. That makes us an industry expert for the area. Local knowledge is essential for antenna installation as not all antennas are created equally. One type of antenna may not have the same impact as another style of antenna for the same area. We know what antenna suits the area and this has been achieved by trial and error since 1999.
Jim's Antennas Norwood also assists with all the extra TV points you might need. Fancy a TV outlet in your kitchen so you can watch TV while preparing a meal? No problem. What about a TV in the garage so you can watch the footy without the distractions? This is also no problem. We can also install data and phone outlets to improve data speeds and the quality of phone conversations held on a fixed line. Jim's Antennas Norwood holds the required cablers licence which is a mandatory requirement to install these types of fixed lines.
Jim's Antennas Norwood also has a passion for home theatre. We could spend the rest of our lives setting up your cinema quality theatre room we love it that much! Projectors are intricate pieces of equipment and installation comes down to inches. You just don't want to get it wrong so if you're considering a DIY think twice as too often we've been called in to repair a DIY disaster.
We offer extended warranties anywhere up to 5 years and we will always honour the terms and conditions. Equipment fails and if it's under warranty, we'll replace it. More and more people want to go with a brand that's reputable. That's the Jim's point of difference. We have an accountability system in place that ensures quality service is of the utmost importance. If our technicians don't meet our high standards, we will train them until they do. For a professional installation every time, call in the experts at Jim's Antennas.
Jim's Antennas Norwood provide a range of services including:
Digital TV set top boxes
New TV Antennas installations
Digital TV Upgrades
Extra TV, Telephone and Data Points
Plasma/LED/LCD TV Installations
Home Theatre Installation and Setup
Freeview TV
Satellite Systems
Units, Hotels, Schools, Commercial Buildings – MATV Systems
Insurance work
Jim's Antennas services the following suburbs and neighbouring areas:   Magill, Skye, Newton, Maylands, Kensington, Wattle Park, Erindale, Joslin, Kent Town, Stepney, Montacute, Campbelltown, Aldana, Cherry Gardens, Picadilly, Inglewood.
If the local technician is unavailable we will have another of our professionals respond to your needs. Call us 7 days on 131 546 or Book Online 24/7.
Request a Free Quote
or Call 131 546 [8am – 8am – 7 days]