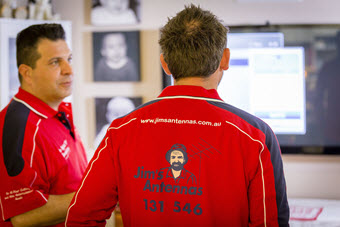 Beenleigh
Jim's Antennas is your local antenna and home theatre specialist servicing all suburbs in the Beenleigh region. Jim's Antennas technicians are proud to service the residents of Beenleigh and surrounding areas, whether it be the diagnosis and repair of TV reception problems, replacing TV antennas, installing home theatre equipment or installing new TV, phone or data outlets.
Our technicians are experienced with single and double storey homes, townhouses, high rise multi dwelling apartments, retail outlets and other large commercial sites. From complete new antenna systems, down to the amplifier, distribution amplifiers, trunk cabling and new TV cabling we can do it all. No job is too big or small and we guarantee that there is no TV signal problem that can't be fixed.
Our technicians are fully insured and police checked so you can feel completely safe and confident in your home. We also offer satellite installation and repair, including VAST where required.
Jim's Antennas Beenleigh provides a range of services including:
Call 131 546 to book a free, no-obligation quote or simply Book Online 24/7.